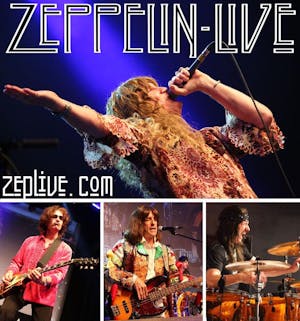 With 20 years of brilliant performances, Zeppelin Live captures the complexity, challenge and fierce talent of Led Zeppelin onstage.
A Live Rock Tribute to Led Zeppelin.
There are other tribute acts who attempt to replicate Led Zeppelin's music, but only Zeppelin Live can perform the full range of Led Zeppelin onstage, including the most complex and challenging songs that Led Zeppelin themselves recorded in the studios and performed for a live audience. No other rendition of Zeppelin's music rivals this level of performance. Zeppelin Live captures it all flawlessly.
We invite you to take a magical journey back to the '70s and to experience once again the group that made rock-n-roll come alive. Accept no substitutes.
Zeppelin Live (formally Heartbreaker) has been playing all over the western hemisphere since 2000, performing as far north as Anchorage Alaska, as far south as Trinidad and the Dominican Republic and as far east as Providence, Rhoad Island. The cast of players includes:
Jefrey James as Robert Plant
Jefrey is one of the greatest artists ever to portray Robert Plant on stage. His love of the music of Led Zeppelin, coupled with their ever growing public demand, has driven Jefrey to dedicate his vast vocal talents and years of live stage experience to bring to life the most authentic looking, performing, and sounding Robert Plant impersonation ever.
Prior to Zeppelin Live, Jefrey's vocal and song writing talents have taken him around the world, where he has performed for over a million people as an original recording artist with his group Atlantis. In addition to performing with stage and studio musicians, Jefrey was an entertainer for hundreds of Corporate America events. Jefrey has also shared the stage and worked with many great music industry talents, including Greg Rollie (original member of Santana and Journey), Night Ranger, Y&T, Rod Stewart, Bon Jovi, Three Dog Night, Cheap Trick, Pat Travers, Scorpions, Jefferson Starship, and many others. Jefrey founded Heartbreaker early on in 2000, and continues to captivate and amaze audiences everywhere with his life-like portrayal of Robert Plant.
Stuart Horton as Jimmy Page
Stuart started playing guitar in 1976 and was schooled in his craft at the highly acclaimed Showcase Music Institute (SMI). Stuart is accomplished at many different styles of music (rock, jazz, blues, fusion), and is equally adept on electric, acoustic, and 12-string guitars.
Stuart has graced the stage with many original rock, jazz, funk, blues, and top-40 groups, including the original rock group Atlantis, and received a Northern California "Best of the Bay" award for his work with the original group Alien. Both Alien and Atlantis received heavy airplay on San Francisco Bay area radio stations KSJO, KOME, and KRQR and shared concert stages with many well known acts including Quiet Riot, Robin Trower, Cheap Trick, Pat Travers, Night Ranger and Scorpions. Stuart's love of Led Zeppelin music and brilliant guitar playing make him an invaluable asset to Zeppelin Live . He joined the group in early 1999 and brings not only the look and stage persona of Jimmy Page (including the infamous dragon costume and "bowing" technique on guitar), but an array of vintage Les Paul guitars which enable him to capture the true sound and spirit of Jimmy Page's guitar work.
Joel Pelletier as John Paul Jones
Joel Pelletier has been a bassist, pianist, keyboard player, guitarist, singer and composer/ arranger in bands across the united States for over 30 years. Trained as a classical composer and pianist with a degree from The Hartt School of Music, he has been a performer in many original music projects as well as cover and tribute bands (including as Geddy Lee from RUSH, and since 2006 as John Entwistle from THE WHO). As John Paul Jones, he gets to utilize many of his musical and theatrical talents as a bassist, keyboard player , mandolin player and singer to reproduce some of personal favorite music, LED ZEPPELIN.
Darryl Johnson as John Bonham
Darryl brings over 20 years of recording, drumming, and percussion experience to Zeppelin Live . Darryl starting honing his craft at an early age and was influenced by many of the great rock legends such as Alex Van Halen and of course John Bonham. He showcases the classic and timeless drum styles, equipment, and mannerisms of the one and only John Bonham. Not only does he play the recorded studio versions of Led Zeppelin note-for-note, but he also adds varients of John Bonham's momentous live renditions. Darryl also brings that famous look and sound of John Bonham to the stage with the Amber Vistalite drum kit, large gong, and timpanies. Darryl truly exemplifies the powerful rhythms and styles that made John Bonham one of rock-n-roll's greatest drummers.
Venue Information:
Club Fox
2209 Broadway
Redwood City, CA, 94063