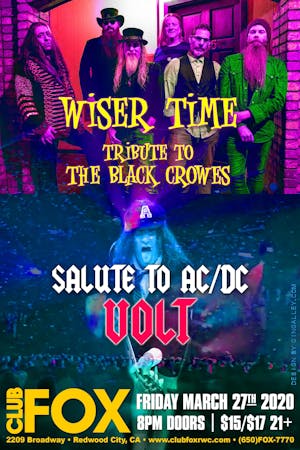 Club Fox welcomes WISER TIME - Tribute to the Black Crowes w/VOLT - Salute to AD/DC.
WISER TIME is a group of good friends playing songs by The Black Crowes and bands that influenced them.
VOLT - A Salute to AC/DC is an extremely high energy tribute band performing AC/DC's hits with incredible accuracy in a full blown Rock Show with all the fog and lights of a theatre level show. Special shows include the album "Back in Black" LIVE!!
Venue Information:
Club Fox
2209 Broadway
Redwood City, CA, 94063