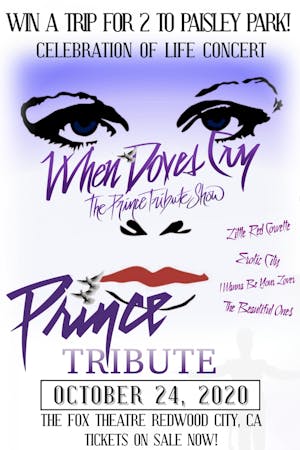 POSTPONED UNTIL APRIL 17, 2021 - WHEN DOVES CRY - THE PRINCE TRIBUTE SHOW
$24.00 - $65.00
Postponed
WHEN DOVES CRY - The Prince Tribute Show - Celebration of Life Concert for Prince / Win a Trip for 2 to Paisley Park!
During this Celebration of Life Concert for the 4th Anniversary of Prince's passing, We are proud to be giving away a Trip for two to Paisley Park!
All V.I.P. Tickets are eligible to Win.
V.I.P. Ticket holders will have a VIP Only Pre-Party from 7:30-8:30pm in which we will give away 5 Prince items & the Grand Prize, a Trip for 2 to Paisley Park!
DJ DePope of Funk will be spinning All Prince during the VIP party.
Your VIP Ticket also gets you 1 Free Drink Ticket & and exclusive access to the upstairs seating area.
The Trip includes Round trip Airfare for 2, Hotel for 2 Nights,as well as 2 Tickets for "The Ultimate Experience" 3-hr Guided Tour of Paisley Park!
You MUST have a V.I.P. Ticket and be in attendance at the Show to be eligible to Win the Grand Prize.
We will also be giving away 3 Prince items for all Ticket holders at 9:00pm.
Limited amount of General Admission Tickets available.
General Admission Doors Open at 8:30pm.
When Doves Cry - The Prince Tribute Show Starts immediately after G.A. prize giveaway at 9pm.
We're so proud to be able to make Two more Prince fans dreams come true! See Giveaway Rules & Regulations at this link - https://www.facebook.com/events/153138572777605/
More than just an impersonation, WHEN DOVES CRY - The Prince Tribute Show, is a dynamic and multi-talented band that puts the integrity of the music Prince left us above all else.
Formed in late 2015 in Sacramento, California, the band taps into the heart of Prince's music like no other. We leave it all on stage, every time we perform.
WDC also holds the distinction of being the Only Prince Tribute band in the World to have performed the entire "1999" & "Purple Rain" albums in the same night. WDC also performs all of his greatest hits, as well as many songs other tributes won't touch.
With a song list of over 90 Prince songs (and growing), we can guarantee there's something in our show for both the casual and the die hard Prince fans.
We're proud to bring a live Prince Tribute show that will take you through the illustrious career of one of the most prolific songwriters and performers that we will ever know.
If you love Prince's music, this is a must see show.
https://www.whendovescrytribute.com
https://www.facebook.com/whendovescrytribute/
Venue Information:
Fox Theater
2215 Broadway Street

Redwood City, CA, 94063