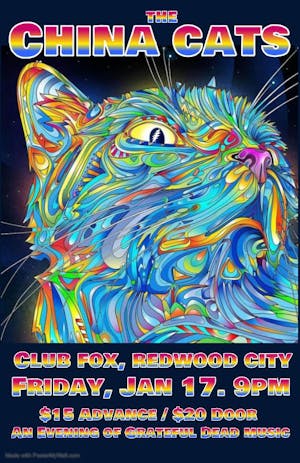 CLUB FOX welcomes The China Cats!
"The China Cats aren't a cover band," says Nicholas Meriwether, archivist of the Grateful Dead collection at UC Santa Cruz. "They approach the Dead's work with same kind of reverence and sophistication that the Dead themselves showed in their own forays into American roots music."
"When you listen the Cats," Meriweather adds, "old favorites take on new lives, revealing facets that will delight and amaze even jaded listeners. These guys aren't copycats — their sets demonstrate how the Dead's music now is a part of the great American songbook, alongside the giants who first inspired the Dead."
"I had a fine time and enjoyed the music very much."
— Rock Scully, former manager, Grateful Dead
"A spot-on, outstanding Grateful Dead Tribute band"
— Tom Miller, booking agent, Don Quixote's, Felton, CA
"If you noticed a couple of ol' greyhairs threading through the dancers in front of the stage just before your closing song, by dancing themselves, that was me and my friend 🙂 Loved your rendition of the music of the GD. Keep on keepin'"
— Alan Trist, Ice Nine Publishing
Members of the band have performed/recorded with Stu Allen (JGB, DSO), Melvin Seals (Jerry Garcia Band), Bill Payne (Little Feat), Barry Sless (Phil & Friends, David Nelson), Ben Ellman (Galactic), Howard Wales (Jerry Garcia, Grateful Dead), Bill Laymon (New Riders), Keith Graves (Jefferson Starship, Quicksilver), Dale Ockerman (Doobie Brothers, Quicksilver), George Marsh (David Grisman Quintet), Bobby Black (Hank Williams, Bob Dylan), Rob Wenig (JGB), Luka Frederickson (Wolfman Washington), Mike Schermer (Elvin Bishop, Maria Muldaur), Marc Carino (Fabulous Thunderbirds), James "Fingers" Shupe (Dan Hicks), Chris Cain, Robert Lowery, Luther Tucker, Johnny Shines, June Core (Charlie Musselwhite Band), Rusty Zinn, Deep Blue Sea, Stackabones, Butch Zito, Jim Brighton, Gary Gates, Bundy Brown, Slugs & Roses, Shady Groove, Velour, Seven Come Eleven, Dave Stein, Frank Wakefield, and many others.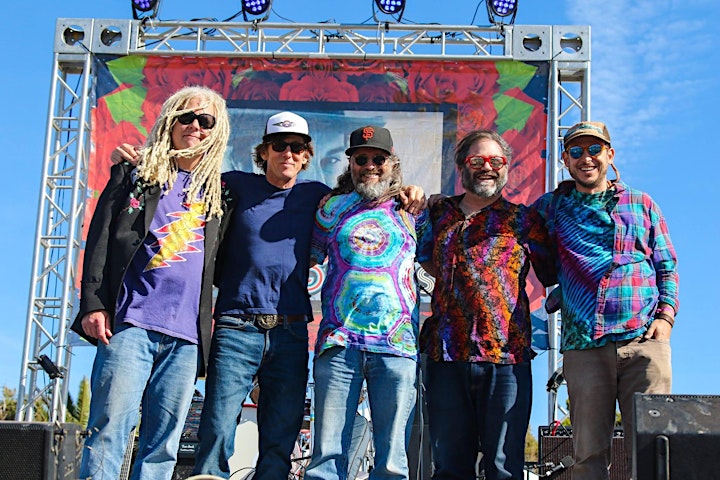 Venue Information:
Club Fox
2209 Broadway
Redwood City, CA, 94063