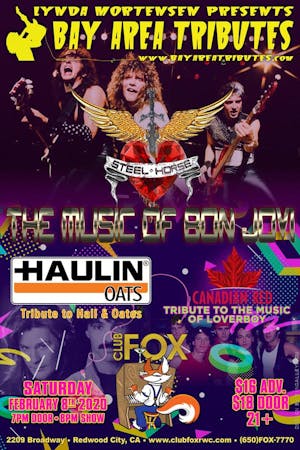 Lynda Mortensen Presents Bay Area Tributes
Steel Horse - The Music of Bon Jovi
Haulin' Oats- Tribute to Hall & Oats, Canadian Red - Tribute to the Music of Loverboy
$16.00 - $18.00
Sales Ended
Club Fox welcomes Steel Horse - The Music of Bon Jovi, Haulin' Oats - Tribute to Hall & Oates, & Canadian Red - Tribute to Loverboy.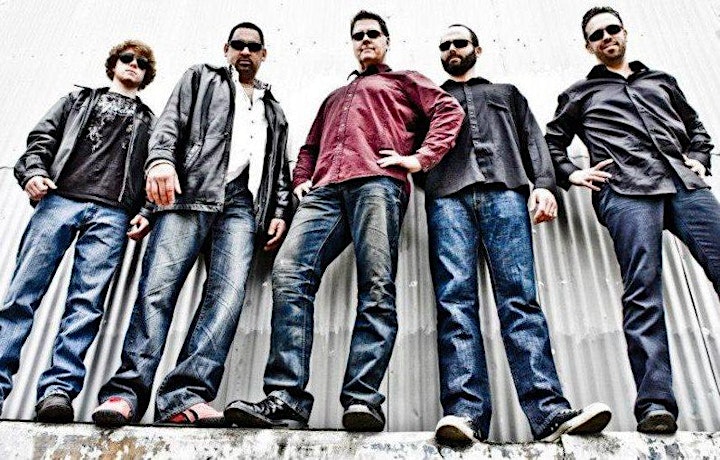 Steel Horse is Northern California's premier Bon Jovi tribute band, performing all the biggest hits from the Bon Jovi music catalog. Consisting of five seasoned musicians with decades of live performance experience under their belts, Steel Horse will transport you into the Bon Jovi experience. You'll be transported back to the glory days of 'hair bands' as you sing along with the classics such as Living on a Prayer, You Give Love a Bad Name, Dead or Alive, Bed of Roses, Blaze of Glory, Bad Medicine, and Runaway...just to name a few!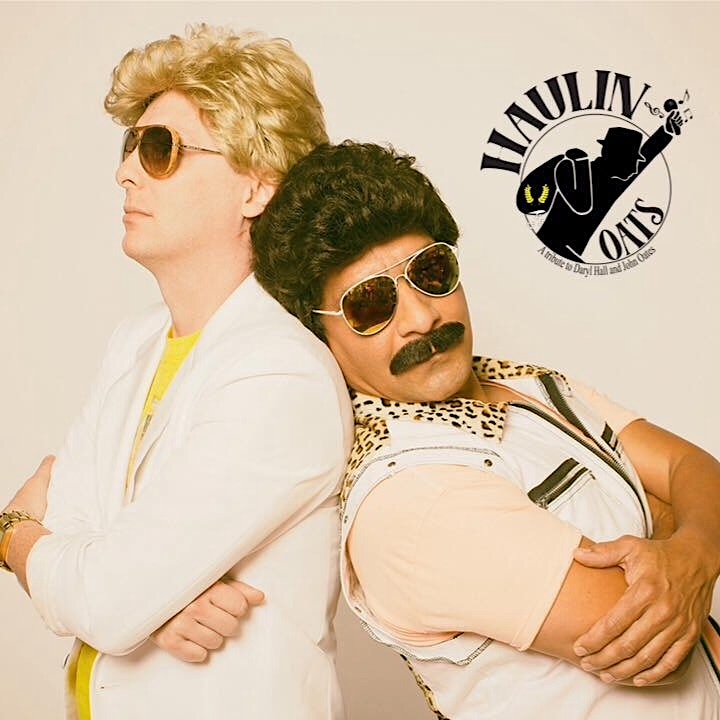 "They are the most successful duo in the history of Pop Music!" If you have ever had the pleasure of seeing the tribute band Haulin Oats then that is one of the first things you hear piercing through the speakers before the band takes the stage to play yet another set of chart topping music. Haulin Oats is a tribute to the legendary Daryl Hall and John Oates. Formed out of the sheer need for more Hall and more Oates and a mutual respect for one of the greatest catalogs of music ever written and composed. Haulin Oats is a tribute experience that is not be missed.
Jake Morgan's (AKA Haulin) musical journey began in Louisiana where his roots began in soul and gospel music. He made his way to the west coast over 10 years ago and fell in the love with the Bay Area the first time he ever set foot on the piers of San Francisco. Jake is an accomplished vocalist having fronted various bands, toured with and provided background vocals for Michael McDonald. He has a true passion for Hall and Oates and their music and it has been a dream of his to start a Hall and Oates tribute band. A dream that is now a reality hitting stages in a city near you.
Naturally you cannot have a Hall and Oates tribute band without having the perfect sidekick. Franklin Vasquez (AKA Oats) fits this role with ease and serves as the other half of the duo. Franklin was born in New York City and raised in the Dominican Republic before making the move to the Bay Area where he made his home. An accomplished guitarist and vocalist Franklin grew up listening to the albums H2O and Big Bam Boom not knowing that one day he would grace the stage donning that famous caterpillar mustache.
An energetic combination of stage personalities joined by some of the best musicians from the Bay Area makes this a momentous affair. Music transcending generations and generations of fans from all over the world.
Do yourself a favor and don't miss an opportunity to be present for a show consisting of all of their greatest hits spanning three decades!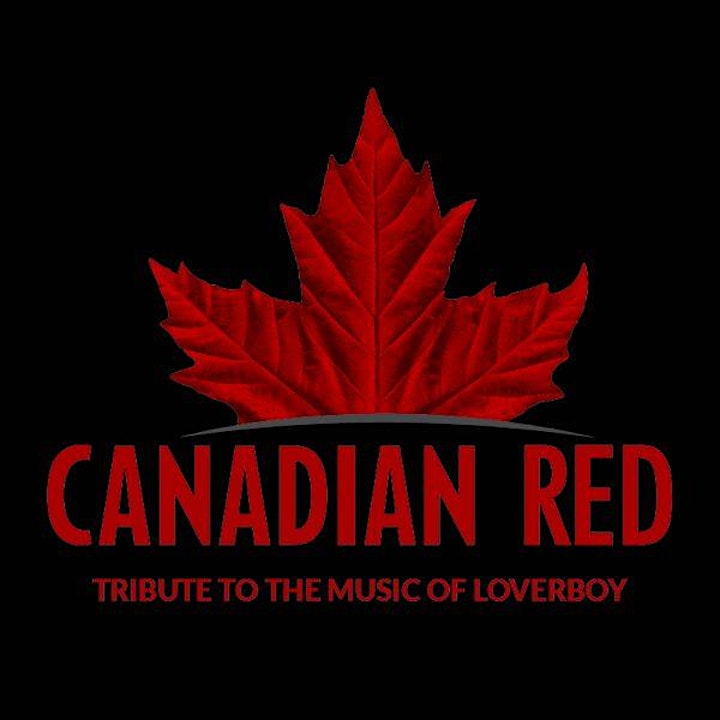 Venue Information:
Club Fox
2209 Broadway
Redwood City, CA, 94063