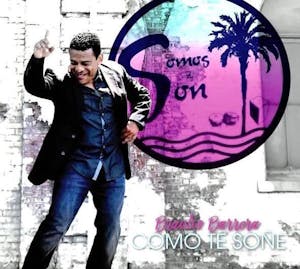 Club Fox SALSA SPOT features Orquesta Somos El Son!
Come to dance, dance, dance at Club Fox Salsa Spot w/Julio Bravo y su Orquesta Salsabor!
Doors at 8pm
Salsa Lesson at 8:30pm
$15 cover/$10 w/student ID
Braulio Barrera was born in Lima, Peru on June 29th 1969, but grew up in Santiago de Surco. Coming from a family of cultivated musicians and singers of Creole Peruvian music, Braulio was always fascinated by the sounds of his native instrument, the Cajon. The cajon has become one of the main percussion instruments of Peru because of its richness, its adaptability, and the place it conquered with the Peruvians. The development in rhythm reached by the Afro-Peruvians, and the diffusion of the cajon in Peru's coastal music and now all over the world is outstanding.
At the age of 19, Braulio began his professional career as a percussionist and vocalist in Peru. His musical versatility led him to become one of the lead musicians to perform with Cecilia Barraza, one of Peru's most respected singers. In 2000, Braulio began touring across the U.S. with various artists ultimately deciding to take up residence in California as a full-time musician. This move led to opportunities teaching, composing, and performing Peruvian and Latin American music with numerous cultural groups.
In 2004, Braulio was invited by Gustavo Santoalalla to play cajon on the soundtrack for the award winning film, "The Motorcycle Diaries". In 2005 he performed with Orchestra Tabaco y Ron for the film, "Cane." In 2006 he later joined the group of Cecilia Noel and the Wild Clams where he performed extensively for four years in Los Angeles.
In 2011, Braulio relocated to San Francisco Bay Area. He is a founding member of 2014 Grammy award winning, Pacific Mambo Orchestra.
Braulio currently teaches music to children with the San Francisco Symphony and performs as a full-time musician across the U.S.
Somos El Son was launched on June 4th 2013. Is a powerful salsa orchestra based out of San Francisco Bay Area. Braulio Barrera, Peruvian singer/sonero is the band leader & master percussionist who carefully has selected the right combination of music repertoire from classic tunes to original ones. Barrera also has chosen the right combination of musicians especially designed for dancers!!!
https://somoselson.com/
Venue Information:
Club Fox
2209 Broadway
Redwood City, CA, 94063