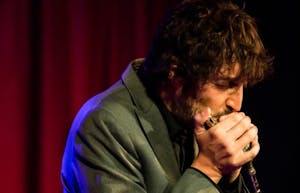 Club Fox Blues Jam welcomes outstanding Spanish harp player and singer Quique Gòmez.
Quique Gómez, the Spanish-born vocalist/harmonica player is no stranger to fans on both sides of the Atlantic, having worked with several top bluesmen and traveling the world since first visiting Chicago. He delivers a set of Windy City-flavored blues in his latest album, Dealin' with the Blues, recorded in his hometown of Madrid but mastered by Kid Andersen at Greaseland Studios in California.
Now in his early 40s, Gomez began playing harp at age 18 and migrated to the Windy City for the first time in 2008, quickly establishing himself. He's toured with a who's who of talent, including Chicagoans John Primer, Eddie C. Campbell, Jimmy Burns, Taildragger and Rockin' Johnny Burgin as well as Canadian keyboard player Kenny "Blues Boss" Wayne.
Quique's no stranger to the recording studio, having served as a sideman on about a dozen CDs, and he works frequently with Italian guitarist Luca Giordano, often joining him to back Stateside musicians during European tours. The pair have collaborated on two releases, Dead Mama Blues, recorded in Italy in 2009, and 3011 Studio Sessions, captured in Chicago in 2012. And he paired with Brazilian guitarist Netto Rockefeller on another album, Bahia Times, two years later.
He's an excellent harp player in the Chicago tradition, and possesses a clear, strong baritone voice.
Dealin' With The Blues is a rock-solid debut that's available direct through www.sweetrecordslabel.com. It will be interesting to hear what Quique does next. An album with Rockin' Johnny is currently in the planning stages.
Venue Information:
Club Fox
2209 Broadway
Redwood City, CA, 94063