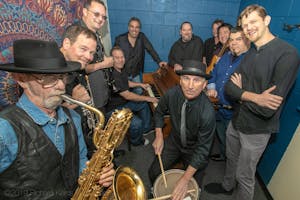 Club Fox welcomes The Bay Area's 10-Piece Rock & Soul Blowout, THE HOUSEROCKERS!
THE HOUSEROCKERS are a 10 piece Rock & Soul band from Los Gatos, CA that plays the greatest songs ever recorded. With a wailing 5 piece horn section and rock solid rhythm section of 2 guitars, bass, drums and keys, they bring timeless classics to life.
Winner of the KFOX Radio Last Band Standing Contest that named them "Best Cover Band in the Bay Area" The Houserockers are one of the hardest working and in demand bands in Northern California. Known for their over the top, high energy set lists that take you from Bruno Mars and Earth, Wind and Fire to Springsteen, The Rolling Stones and Huey Lewis, from Stevie Wonder to Jessie J, The Romantics, Van Morrison and The Ohio Players.
Fusing elements of rock, funk, soul and R & B with occasional forays into rap and country - the band turns every performance into a house party. The audience is invited to go on a wild ride in the form of non-stop dancing, air guitar, singing, screaming, and uncontrollable smiling every time they play.
www.svhouserockers.com
www.facebook.com/houserockers
Venue Information:
Club Fox
2209 Broadway
Redwood City, CA, 94063