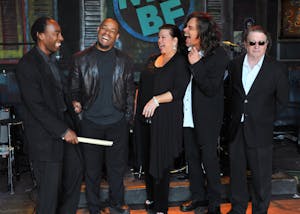 Club Fox Blues Jam welcomes Paula Harris and the Beasts of the Blues!
Paula & The Beasts of Blues have been called "The Hottest thing to hit the blues Scene in Years", "At The Crossroads" Magazine called them "Blues with Balls" and they have been said to be " Cooking with Grease- it's hot as hell and oh so tasty!". They have received press from virtually every major blues publication and Dan Aykroyd ( AKA Elwood Blues) even selected them as his Blues breaker and favorite new release for the album "Turning on the Naughty" ( See the drink correlation?LOL) on his internationally syndicated radio show "The Blues Mobile". The San Francisco Chronicle said they sound "Like Tower of Power Meets Etta James". This in understandable because Founding member of Tower of Power, Mic Gillette, as well as current saxophonist with the Tower of Power, Tom Politzer teamed up with Etta James' Trumpet player of more than 12 years, Tom Poole to create the brassy horn driven sound this band dishes out. Tom is a regular member of the band) They finished in the top three bands in the world at the largest "Battle of the Bands" competition on the planet and all the horns hold Grammy Awards. This is one helluva band!
Paula has performed with everything from numerous symphony orchestras to the blues band of the year and is known for her enormous range, feisty demeanor, naughty lyrics, and show stopping power. She has been called " A Knockout" ( Bruce Labadie director of San Jose Jazz), "A Vanilla Coating on a Chocolate Soul" ( Lou Rawls), "Soulful, Impudent and Funky" ( San Francisco Chronicle), "Pitch-perfect, Polished, and shakin-all-over" ( Monterey Herald), "Heady, Slinky, and downright Sexy" ( Blues 411.com), "Hands Down the best singer to ever grace this stage"(Denton Morrell- Manager of Blues on Whyte in Canada) Paula has also been compared to Etta James numerous times as well as to Billie Holiday, Sarah Vaughan, and Ruth Brown. In other words this lady can SING!
Venue Information:
Club Fox
2209 Broadway
Redwood City, CA, 94063