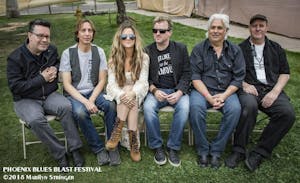 POSTPONED - ON TOUR: The Shari Puorto Band
Club Fox Blues Jam welcomes The Shari Puorto Band!
Shari Puorto Band is a Blues/Rock/Roots Band with a whole lotta soul who have been touring together for many years. With notable nominations and awards under their belt they continue to electrify audiences from Coast to Coast and abroad. If you haven't seen them yet, you must! It's an experience you will not forget. You will see and feel and band combining today's Modern Blues/Rock with yesteryear's traditional Blues. Their connection with the audience and performance are infectious! Once you see their show you will understand why people are captivated and come back for more. "We know how to bring an audience together and allow them to feel something deep within their souls they never thought existed." Shari says.
In Shari's albums and her live shows she (and her band) are known for their passionate, driven style. This powerhouse vocalist consistently delivers standout performances - both live and in the studio! Now she finally has a Live CD to prove it! "Live at Bogie's" is Shari's 5th Album release, but her 1st Live release. 'Live at Bogie's' serves you a blistering mix of Blues Rock, Contemporary Blues, and American roots music, mostly consisting of her original music, keeping it true and raw to their sound. This energetic Live CD consists of 8 originals and 4 covers. Live at Bogie's showcases Shari's memorable originals like, It's a Damn Shame, Home of the Blues, Outta My Mind, 6 Months Sober, Sugar Daddy, All About You, All I Want is You, while also performing fan favorites such as, Steve Winwoods, 'Can't Find My Way Home', Randy Newman's 'Guilty', Savoy Brown's 'I'm Tired' and Candi Stanton's 'Evidence'. These covers also demonstrate Shari and her bands interpretive skills.
"Shari's a road warrior touring non-stop across the USA and now, after some fine studio releases, those of us unlucky enough not to see her perform live can get a taste of the Shari Puorto live experience in full flight on a fantastic live album. Ms Puorto is a fabulous singer, right up there with Bonnie Bramlett in my pantheon of soulful blues singers and backed by a great band this record shows just how good she is. The 12 tracks on "Live at Bogies" are a testament to her blues journey so far with stand out numbers like 'Six Months Sober' and 'All I Want Is You' making you instantly reach for the repeat button. Fans will love it, newbies need to hear it. Blues like it should be." CD review, Stuart Hamilton: Blues Matters! & The Rocker, UK - May 16, 2018
Venue Information:
Club Fox
2209 Broadway
Redwood City, CA, 94063