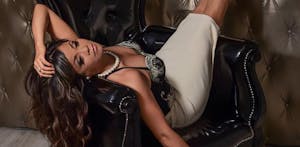 Club Fox Blues Jam welcomes Lara Price.
Female Soul Blues Artist Nominee 2017
A Little Goes A Long Way… Lara Price was born in the war torn country of Vietnam in 1975. Abandoned at birth, Lara became a part of the controversial Operation Baby Lift, the mass evacuation of orphans from South Vietnam to the United States. Her journey out of Vietnam to her new home was nothing short of a miracle, as 90 percent of the orphaned babies did not survive. Lara Price is a survivor.
Lara arrived in the San Francisco Bay Area in 1997 to pursue her dream of singing in a band. The journey of Lara's career includes tours across the United States, China, multiple bands, and 5 CD's that Lara Price has produced, co-written, and on which she has played multiple instruments. Lara's journey continues in Austin, Texas. Her 6th CD, "I Mean Business," is exactly that! "I Mean Business" has been picked up by Vizztone Label Group and has earned Lara Price a Best Soul/Blues Female Artist nomination for 2017.
"Lara Price…combines Gladys Knight's sophistication with Mavis Staple Grit"
Boston Globe November 2015
"Crazy Lucy"
Elwood's Blues Mobile - Top Pick of the Week January 2016
"Strong performances mark Lara Price as a force in the soul blues arena!"
Blues Blast Magazine March 2016
"If you enjoy the soul blues styling's of women like Trudy Lynn, Etta James, and Etta Jones, you'll find plenty to latch onto with Price's I Mean Business."
Blues Review Magazine March 2016
Venue Information:
Club Fox
2209 Broadway
Redwood City, CA, 94063