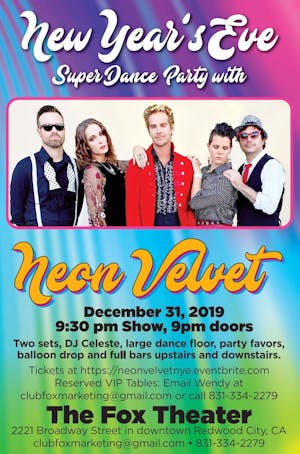 New Year's Eve w/NEON VELVET at The Fox Theater
$40.00 - $50.00
Sales Ended
Welcome the New Year w/NEON VELVET at the Fox Theater! Two sets, DJ, large dance floor, party favors, full bars & VIP tables available.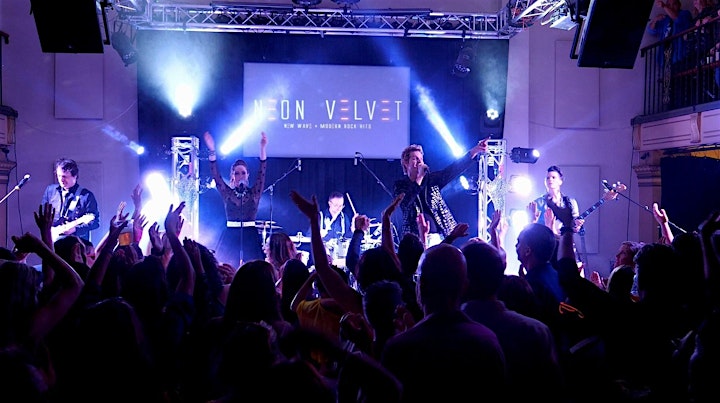 Club Fox Presents a dance party so big, so raucous, that we had to move it to the Fox Theater next door!
Kick off the New Year in style with NEON VELVET!
Doors are at 9pm, music starts at 9:30pm. There will be two sets, a DJ, large dance floor, party favors, balloon drop and full bars.
Ten-person and Four-person VIP tables are available, but limited. For more information, contact Wendy at 831-334-2279 or clubfoxmarketing@gmail.com
Neon Velvet is like a first date: Exhilarating!
Imagine all the sass and the glamour of the 80's in a sweet embrace with the today's most potent pop artists The result is an uplifting night of fashion and fun, scored with musical precision. Neon Velvet is the Elite Dance Band.
Selling out NorCal clubs and concert halls, Neon Velvet elevates any event to its greatest heights. Thoughtfully blending classic party anthems with current hits and exciting surprises, this world class band packs the dance floor and delivers an unforgettable time!
Feel the Velvet.
Venue Information:
Club Fox
2209 Broadway
Redwood City, CA, 94063