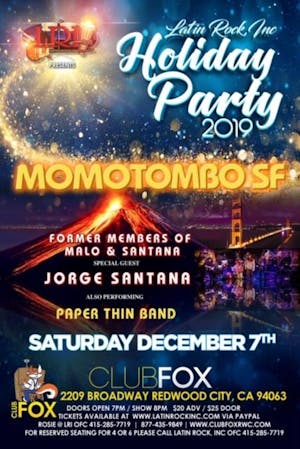 LRI 2019 Holiday Party w/MOMOTOMBO SF - former members of Malo & Santana, special guest Jorge Santana & the Paper Thin Band
As this year comes to an end, Latin Rock Inc celebrates another year of great music and shows, and we thank you all for your support. With no less than 9 sold-out shows, with both new and familiar faces, it has been a year worth celebrating.
Due to popular demand, we bring back Momotombo SF with their line up of former Malo and Santana players. This year, the group includes Leo Rosales, original Malo timbalero Gabe Manzo on guitar, on bass Santana veteran and one of my personal favorite bass players Dave Margen, on drums David George, on horns Mike Rinta, and new edition, local favorite John Calloway.
Joining the group this year will be original Malo guitar player Jorge Santana, who will be bringing the Malo sound to the stage.
Also performing will be The Paper Thin Band, led by Alfred Sanchez along with his group of local musicians performing the crowds favorite dance songs. The Paper Thin Band coming out this year have been able to garner an opening spot performing with the Si Se Puede Band led by brother Abel Sanchez.
Be sure to join us for this special event celebrating 2019.
Venue Information:
Club Fox
2209 Broadway
Redwood City, CA, 94063