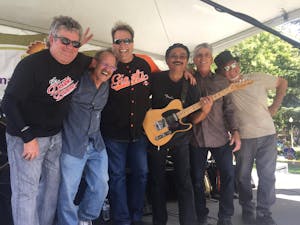 Club Fox welcomes Long Train Runnin' - Tribute to the Doobie Brothers along with classic rock from SF greats - Journey, Santana, and more!
With their extensive Bay Area musical backgrounds,LONG TRAIN RUNNIN' - A TRIBUTE TO THE DOOBIE BROTHERS performs songs from the Doobie Brothers' Record Catalog with the live energy of a Doobie Brothers concert.
Performance songs include Listen To The Music, Long Train Runnin, Black Water, Takin' It To The Streets and What A Fool Believes. As you know, the Doobie Brothers' catalog includes many favorite top hits and outstanding arrangements for a rockin' live concert experience. This South Bay band's live performance feels like a charged-up concert by the Doobie Brothers themselves. LTR's vocals are superb and their guitar work is dynamic and precise. With two drummers, three guitarists, keyboards, tenor sax and six vocalists, you are going to love the sounds of this band!
Andy Morales - Lead vocals, drums & percussion. Andy is an amazing singer and drummer who has played with members from Santana, Sly And The Family Stone, Malo and many other national acts. He is one of the most sought after musicians in Northern California.
Mark Belshaw - Lead vocals, saxophone, guitar, keyboards, flute. Mark has toured all over the U.S., Canada and Asia and is a great showman. He's known for his searing sax solos which are often played while he's out in the audience on the dance floor! Mark is an outstanding musician and performer.
Dave Petrucci - Lead vocals, guitar, keyboards. Dave is also a songwriter, a producer and has toured all over the U.S. . His piano playing is rooted in Gospel and Jazz and can play Blues Guitar with the best in the business.
John Mallare - Lead vocals and guitar. He too is a much sought after talent throughout Northern California. Deep experience in live and studio performance gives John a professional edge that he has carried throughout his distinguished musical career.
Harold Martin - Bass and vocals. Harold is Rock Solid on the Bass. His unique sound is the foundation for LTR and is a great talent to have in the band.
Andy Thrall - Drums & vocals. Andy has studied with Narada Michael Walden and toured the United States playing a variety of musical styles. Together with Andy Morales on drums, this rhythm section is down right scary. Mr. Thrall's excellent sense of timing and dynamics sets the standard that others can only strive to reach. He's got that Rockin Beat!!
http://www.longtrainrunnin.com/home
Venue Information:
Club Fox
2209 Broadway
Redwood City, CA, 94063