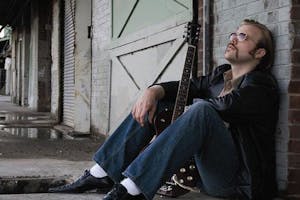 Club Fox Blues Jam welcomes Kid Andersen and friends.
"Kid" Andersen (born January 15, 1980) is a blues guitarist from Herre, Norway.
By age 11, Andersen had gained the attention of Norwegian blues guitar teacher, Morten Omlid, who steered him towards traditional blues music. By the time he was 18, he was backing all the American blues stars who came through Norway, including Homesick James, Nappy Brown and Willie "Big Eyes" Smith. In 2001, with guidance and encouragement from multiple BMA winning saxophonist, Terry Hanck, Kid moved to California at the age of 21. Once in the U.S.A., Andersen earned a green card as an "Alien of Extraordinary Ability." He toured and recorded with Terry for three years, and also released four well received solo albums under his own name during this time.
Andersen later played in Charlie Musselwhite's band and got a Blues Music Award (formerly W.C. Handy Award) for best contemporary blues album for Charlie Musselwhite's Delta Hardware.Then, when Little Charlie Baty retired from touring, Andersen took his place as guitarist in the Nightcats, and the new name of Rick Estrin & the Nightcats was formed. Andersen has also done extensive touring with Elvin Bishop on the Red Dog Speaks Tour. He is married to American Idol finalist Lisa Leuschner. They currently reside in San Jose, California where Andersen is CEO of Greaseland Studios.
In 2013, Andersen was nominated for a Blues Music Award in the 'Gibson Guitar' category. In 2014, 2015, 2016, 2017 and 2018 he was nominated for a Blues Music Award in the 'Best Instrumentalist – Guitar' category.
During the past 5 years Kid Andersen also gained a solid reputation of musical producer using his own recording facility.
Andersen's Greaseland Studio, winner of the 2017 Keeping The Blues Alive Award, has been the highly regarded scene of recordings by artists including Elvin Bishop, John Nemeth, Wee Willie Walker, Finis Tasby, and Billy Price as well as all three Rick Estrin & the Nightcats studio CDs.. In 2017 he also produced several albums including "Stompin' Ground" from Tommy Castro & The Painkillers as well as John Blues Boyd,a blues veteran. He recorded and mixed the Grammy nominated "Remembering Little Walter" in 2015.
The Club Fox show will feature Andersen's Greaseland All-Stars, a revolving door of world class talent, and featured lead singers on this night's show, besides Kid, will be his wife Lisa, as well as the aforementioned Blues powerhouse singer John Blues Boyd.
Venue Information:
Club Fox
2209 Broadway
Redwood City, CA, 94063