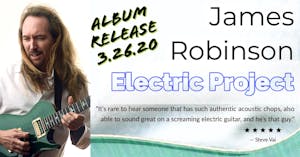 James Robinson Electric Project
Alex Lucero & Live Again Band
Club Fox welcomes the James Robinson Electric Project Album Release. Alex Lucero & Live Again Band open.
One listen to James Robinson and you will be echoing Larry Carlton and Steve Vai's sentiments:
"James is an extraordinary talent that deserves to be heard." Larry Carlton
"James Robinson's new record is an exceptional display of virtuosic guitar playing. He is sounding just phenomenal on this record and his chops, tone, note choice, phrasing are all quite stellar. It's rare to hear someone that has such authentic acoustic chops, also able to sound great on a screaming electric guitar, and he's that guy." Steve Vai
The long awaited Electric Project release from the PHENOMENAL guitarist James Robinson is here! The Bay Area native brings to the stage an ELECTRIFIED concert to launch his independent release of his first all electric guitar album. Lightening fast chops and screaming electric guitar will leave the audience in awe of his talents.
www.james-robinson.com/electric
https://www.facebook.com/JamesRobinson.electric/
https://www.instagram.com/james.robinson.electric.guitar/
Venue Information:
Club Fox
2209 Broadway
Redwood City, CA, 94063