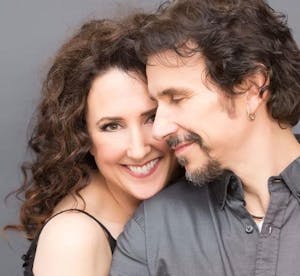 Club Fox welcomes the passionate vocals and dynamic arrangements of GYPSY SOUL, who perfectly capture the spirit of the holiday season.
Their adaptations of traditional holiday tunes are beautiful — I can't describe their "Noel" in words, other than to say it will convince any hater of Christmas music to think otherwise." - Marian Liu, SEATTLE TIMES (Seattle, WA)
Around the world with Gypsy Soul. Authentic and excellent are the words most often used to describe Gypsy Soul and their music. The duo's multicultural heritage helps inform both their message and sound, attracting audiences with their soulful blend of Acoustic Rock, Pop, Blues and Jazz. But it's the stories about the songs and their experiences traveling the country and the world as first generation immigrants from first generation immigrants that makes their shows so personal and memorable.
"A musical marriage that spans the globe, a self-invented, organic sound that has roots in rock and soul, country and folk, blues--- with vocals and lyrics intertwined like a pair of life-long partners inspiring others to follow their dreams." - Hits Daily Double Magazine
Like its creators, their music is much like fine fusion cuisine; Italian, Irish, South African and Ukrainian to be precise. As with any work of art, their music is born from heartache and struggle, love and determination infused with many textures, nuance and flavors. Their message is both universal and intimate, familiar yet otherworldly.
"Gypsy Soul is gourmet music for music lovers." - K-LOS Radio
Venue Information:
Club Fox
2209 Broadway
Redwood City, CA, 94063