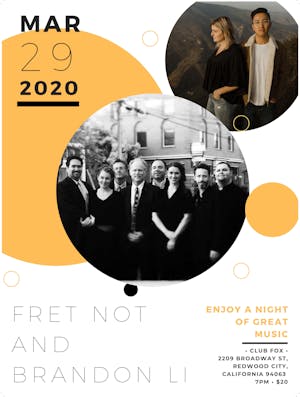 Madigan Productions Presents
POSTPONED - Fret Not and Brandon Li
Club Fox welcomes the old-time gospel of FRET NOT w/soulful songwriter Brandon Li.
The undeniably great bluegrass, old-time gospel group Fret Not is going to rock the house with some gospel tunes that are deeply engrained in our American history. Brandon Li, local music director and songwriter will open the night up with some amazing original tunes.
---------------------
The Fret Not Old-Time Gospel Band plays boot-stomping old-time roots gospel. Lead by Lori Arthur's fiery singing, with songs from the traditions of America's black and white rural churches, it's as if the Whitstein Brothers and Sister Rosetta Tharpe held a barn dance together. In fact, Lori's grandparents did just that on their New Mexico ranch during the Great Depression, with Eugenia, her grandmother, on rhythm guitar just like Lori is now, and her great-uncle, grandfather, and great grandfather on banjo and twin fiddles. Most every-one else in Fret Not also leads or at least plays lead in church worship bands, or fronts their own gospel bands of two-timing pickers, or teaches true and right music to kids. So its in their blood. It's also in their calling.
Venue Information:
Club Fox
2209 Broadway

Redwood City, CA, 94063