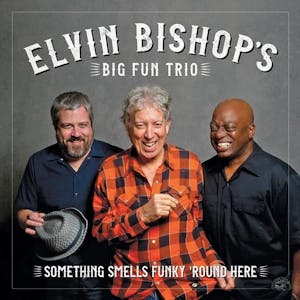 CLUB FOX welcomes Elvin Bishop's Big Fun Trio with top rockabilly guitarist - Jinx Jones!
"Fabulous good-time romps...The pleasure is infectious." –Blues & Rhythm"Seriously played good-time music guaranteed to put a smile on your face" –Chicago Tribune"
Deceptively loose but always tight...the raspy chuckle in Bishop's singing and the sharp sting of his guitar are forceful and fresh, enduring and fun." –Fresh Air, NPR"
I love these guys; Bob and Willy are great musicians. With a trio there's no place to hide­—you've got tobe pourin' everything you got right out front, totally goin' for it all the time. If you've got some real good musicians who are willing and able to do that, you've got something that will move people. And it's fun!" –Elvin Bishop
A lot has happened since guitar legend Elvin Bishop released his last album, 2014's Grammy-nominated Can't Even Do Wrong Right. He was inducted into the Rock And Roll Hall Of Fame, and soon after into the Blues Hall Of Fame. He won the Living BluesAward for Best Blues Album Of 2014 and three 2014 Blues Music Awards: Album Of The Year, Song Of The Year (for the title track) and The Elvin Bishop Band took the award for Band Of The Year.
Now, Elvin—along with his friends, guitarist/pianist Bob Welsh and percussionist/vocalist Willy Jordan—launches The Big Fun Trio. Preparing for one of the first live gigs with his new trio, Bishop told The San Jose Mercury News, "Every time I pick up the guitar, something new comes out of it. I guess you'd call me a late bloomer. When you get to be my age, you're not expecting to be progressing or coming up with any new ideas, but for some reason, I'm lucky enough that that's what's happening to me." His new album—Elvin Bishop's Big Fun Trio—is among his very best musical ideas ever. The music is rootsy, spirited and soulful, performed by serious musicians hell-bent on having a good time. Prior to the group recording a single lick, A Prairie Home Companionbrought them onto the program in November 2015.
Elvin Bishop's Big Fun Trio features Bishop's down-home delivery, deep blues picking and slide guitar, playfully meshing with Welsh's piano and guitar licks and Jordan's soul singing and propulsive cajón playing. The album's laidback, front-porch vibe mixes four rollicking Bishop originals with three co-writes and five raucous, well-chosen covers. And because one can never have too much fun, Bishop's pals Kim Wilson, Charlie Musselwhite and Rick Estrin stop by the sessions, each adding his distinctive
harmonica talent (and in Musselwhite's case, vocals too) to a song. Listening to the proceedings, it's easy to see why the Chicago Sun-Timesenthusiastically declared, "It's impossible not to like Bishop. He's always singing something lowbrow and uplifting."
When it comes to the formation of The Big Fun Trio, it's best to let Elvin tell the storyhimself:
Me and a couple of fellas got to jamming in my studio one day and we lucked up on The Big Fun Trio. I knew Willy Jordan from when he played percussion on some of my albums, and I liked his singing and rhythm feel. This time he brought a cajón, a South American percussion instrument. It's a square box you sit on to play it, and he got some amazing sounds out of it—bass drum, snare, anything—and he's a real strong singer. Bob Welsh is a member of my regular band, an amazing talent. He plays great guitar or piano and can get a tremendous bass sound on his guitar.
In a trio, there's no place to hide. You need to be totally into it all the time and you got to have the right guys. The combination of the three of us clicked big time. We went out and played a couple of gigs, and it was really cool to see how the people reacted to the goin'-for-it feel of the music.
We decided we better make a CD, so here 'tis. We enjoyed the hell out of playing this music, and we hope you do the same listening to it.
According to San Francisco Bay native Jordan, who has 27 years of experience playing drums with artists including John Lee Hooker, Joe Louis Walker and Angela Strehli, making this album was "crazy different. It's rootsy but also new. We all stayed simple tostay strong." Welsh, originally from Covington, Louisiana, has performed and toured with Bishop, Rusty Zinn, Charlie Musselwhite, Billy Boy Arnold, James Cotton and others. Welsh says he too was blown away by the sessions. "Recording this music was fun and fresh and new to us. I had to practice more, learn some new things. The result is fearless."
Although Bishop has been performing his good-time brand of electrified, easy-rolling blues for over 50 years (his first professional gig was as guitarist for Junior Wells' band in 1962), he is as vital and creative an artist today as he was when he first hit the national scene in 1965 with The Paul Butterfield Blues Band. He is still as slyly good-humored and instantly crowd-pleasing as he was when his blues-tinged country rock music was climbing the charts during the 1970s. His return to the blues on Alligator Records in the late 1980s and into the 1990s, along with releases on Blind Pig and Delta Groove before returning to Alligator in 2014, insure his place on the short list of bona fide blues guitar heroes.
Born in Glendale, CA on October 21, 1942, Bishop grew up on a farm in Iowa before relocating to Oklahoma when he was ten. He first got hooked on the blues listening to late night R&B radio as a teenager, and began collecting, listening to and absorbing blues music. Once Bishop realized that many of his favorite records were recorded in Chicago, he used his 1959 National Merit Scholarship as a way to get closer to his blues heroes by enrolling in the University of Chicago—its campus surrounded by dozens of black blues clubs.
After Elvin crossed paths with harmonica player and fellow University of Chicago student Paul Butterfield, the two began sitting in together at South Side clubs, often jamming with BuddyGuy and Otis Rush. They first formed The Paul Butterfield Blues Band in 1963, adding Jerome Arnold on bass, Sam Lay on drums and later Mark Naftalin on keyboards. Prior to cutting their debut LP in 1965, Michael Bloomfield joined the group as second lead guitarist, creating a groundbreaking, all-star band. The self-titled The Paul Butterfield Blues Bandintroduced electric Chicago blues to the rock audience for the first time. With the release of East/Westin 1966, the band's popularity hit an all-time high. Their straight Chicago blues sounds drifted further into progressive and experimental rock 'n' roll and—with two world-class lead guitarists on board—the band helped pave the way for groups featuring multiple virtuoso guitarists, like The Allman Brothers Band and Derek and the Dominos.
Towards the end of the 1960s, after recording three albums with The Paul Butterfield Blues Band, Elvin decided to move on, heading for the San Francisco area. He became a regular at the famed Fillmore Auditorium jam sessions, playing alongside Jimi Hendrix, Eric Clapton, B.B. King and many others before embarking on a solo career. He recorded first for Fillmore Records, then Epic and then for Capricorn, where his career took off. He charted with Travelin' Shoes before scoring big in 1975 with Fooled Around And Fell In Love (the song reached number three on the pop charts and was recently prominently featured in the blockbuster film, Guardians Of The Galaxy).
After a seven-year recording hiatus, Elvin returned to his bluesroots in 1988, signing with Alligator and releasing five albums between 1988 and 2000. Entertainment Weeklydescribed Bishop's music as "sheer, unpretentious joy." After a few releases on other labels, Bishop returned to Alligator with 2014's Can't Even Do Wrong Right, and with it he once again turned the music-loving world on its head. Reviews poured in from NPR's Fresh Air, Rolling Stone, Living Blues, No Depression and many others. He appeared on TBS-Television's CONAN and performed twice on A Prairie Home Companion(the second time, in 2015, with The Big Fun Trio). He toured across the country, bringing his smile-inducing blues music to eager fans around the world.
Now, with Elvin Bishop's Big Fun Trio, Bishop confidently debuts his new—yet satisfyingly familiar—sound, ready to share the group's happy-go-lucky vibe with listeners near and far. The trio's instrumental, vocal and songwriting talents guarantee a boisterous good time. Living Blues says the music is "rousing, swaggering and rollicking." In other words: Big Fun.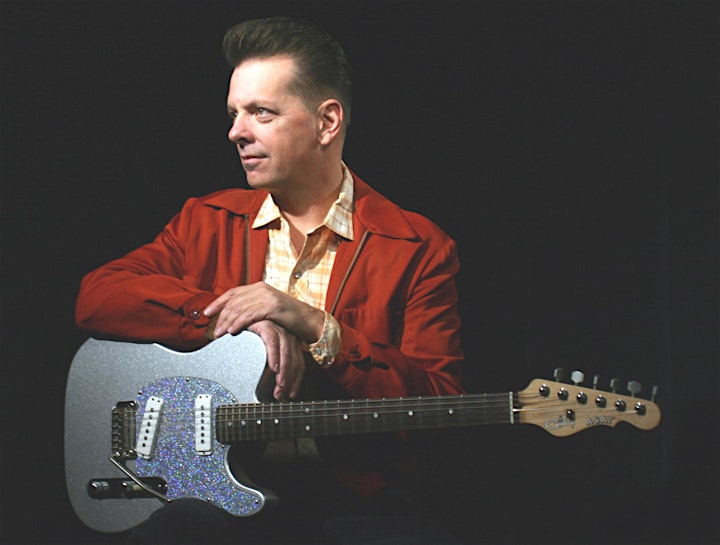 "There are very few guitarists on the scene today who have a resume like San Francisco picker Jinx Jones. After having played with both Chuck Berry and Roy Buchanan, Jones has established himself as one of the top rockabilly guitarists on the scene today." Dr. Matt Warnock; Guitar International Magazine
"You've heard fretboard prestidigitator Jinx before: he lent studio guitar and bass to En Vogue's hit, "Free Your Mind." Professionally impressive as it is, though, that credit does not represent his own chosen styling. Jinx's headlong endeavors draw freely and unto satiation from classic rocka-billy, vintage jazz, and spartan honky tonk…." D. C. Larson, Crackerjack Magazine, UK
Jinx Jones has been twice nominated for Male Rockabilly Artist of the Year by the Ameripolitan Music Awards, has received gold and platinum record awards for his work with R&B divas, En Vogue, has won songwriting awards and has been recognized as one of the hottest acts on the San Francisco music scene.
Venue Information:
Club Fox
2209 Broadway
Redwood City, CA, 94063