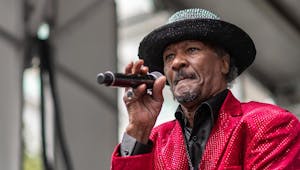 The Club Fox Blues Jam welcomes Filmore Slim, still the master of west coast blues, funk, rap, jazz and soul.
Born November 7, 1934 in the rich musical heritage city of New Orleans, Louisiana, "Fillmore" has lived a transformation like no one else. Bestowed upon him are some of the most significant monikers that truly intertwine with a very real American history. "Tailbone", "Guitar Slim", "Fillmore Slim", "the O.G.". His respect and love for music runs through them all.
He grew up on a farm picking cotton and plowing the fields utilizing a mule. As a youngster he discovered music from his grandmother. He moved to the Los Angeles area in 1955, performing with his band Eddie and the Blues Slayers; he relocated to San Francisco opening shows for the likes of BB King and Dinah Washington; his first single released in the late 50's, was a song entitled 'You Got the Nerve of a Brass Monkey' on the Los Angeles based Dooto record label.
This VIP of the music and underworld would go on to be revered by the members of the hip hop world including Snoop Dogg, 50 cent, Big Daddy Kane and MC Lyte. Among other celebrated musicians, he has toured with Joe Tex, Harmonica Slim and Little Willie John, performed with Sly Stone and T-Bone Walker, and recorded with Joe Louis Walker, Bobbie Webb and Rick Estrin. "Fillmore Slim" continues to master his gift of storytelling as singer/guitarist/songwriter. His musical styles, a mix of Blues, R&B, Funk, Rap, Jazz, West Coast Blues and Soul are what make "Fillmore" so chill.
Venue Information:
Club Fox
2209 Broadway
Redwood City, CA, 94063