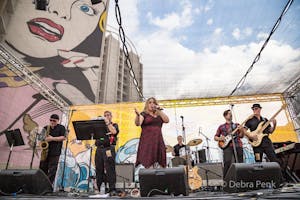 Full throttle vocalist Rae Gordon pulls out all the stops at the Club Fox Blues jam!
"Add equal parts of Janis Joplin's pain, Aretha Franklin's soul and Grace Slick's power; mix them thoroughly, and add a big gob of gooey molasses and you have Rae Gordon's voice" – Positively Entertainment and Dining
Vocalist Rae Gordon started her singing career in the piano bars and comedy clubs of Los Angeles, where she honed her ability to relate to any audience – from a small wine bar with a few people sipping libations, to a big festival attended by thousands. Rae's approachability and onstage charisma is as well-known as her multi-octave range. She has won the Cascade Blues Association's Muddy Award for Best Female Vocalist three times, landing her in their Hall Of Fame. Her first recording, Blue Lemonade, hit #10 on the Billlboard Blues Chart; her second offering, Dirty Flowers, has enjoyed extensive airplay in the U.S. and beyond. In 2017 the Rae Gordon Band released its third recording, the award-winning Better Than I Was, produced by RGB guitarist Kivett Bednar and featuring songs co-written with RGB keyboardist and musical director Pat McDougall.
Venue Information:
Club Fox
2209 Broadway
Redwood City, CA, 94063