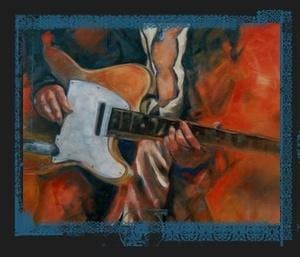 Two powerhouses perfectly matched in talent and tone, MARINA CROUSE & GARTH WEBBER deliver the blues at THE CLUB FOX BLUES JAM
"A new voice as strong as the best blues singers of the past as she sings with the intensity of a Koko Taylor, heartbreak of Etta James, raw emotion of Big Maybelle... Marina Crouse has all it takes to be the next top lady of the Blues. Marina is a bad bad Blues singing woman, so get ready, Marina's got the Blues." ~ Noel Hayes, DJ at KPOO 89.5FM
"Marina Crouse is long overdue her day in the sun. This big, delicious voice deserves to be heard! Really soulful."
~Danny Caron, guitarist and former musical director with Charles Brown
Marina Crouse is an emerging vocalist in the San Francisco Bay Area blues and jazz scene. Her early classical training is evident in a powerful, riveting style that pays homage to the songs she loves while making them wholly her own. Marina has performed locally with Garth Webber, Tony "Macaroni" Lufrano, S.E. Willis & the Willing, Ruth Davies Blue's Thing, Nancy Wright and the Rhythm & Roots Band, Pamela Rose, Tammy Hall, Danny Caron & the Good Hands Trio, Jeff Massanari and others. In July she spent an entire month in New Orleans performing with the Danny Alexander Blues Band.
Garth Webber is a Berkeley-based guitarist/singer, known internationally for his signature tone, who has played with Miles Davis, Gregg Allman, Bill Champlin, Mose Alison, Robben Ford, Boz Skaggs, Merl Saunders, Bob Weir, Doctor John and others. His style is a mix of blues, jazz and rock. He has three Solo CD projects out and has played on many recordings for Bay Area artists. His style is modern but with a foundation in traditional blues.
Venue Information:
Club Fox
2209 Broadway
Redwood City, CA, 94063