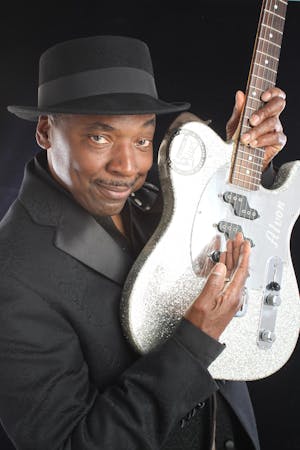 Club Fox Blues Jam welcomes "King of Blues" guitarist Alvon Johnson!
Alvon Johnson: 2005 Guitar Player of the Year, Former vocalist with the Rock and Roll Hall of fame group "The Coasters", Regional winner of the Guitar Centers "King of the Blues" national contest in 2006 and 2007, his CD "The Blues Grew up was nominated for Outstanding Blues Album 2004 and Voted in top ten CD in Japan in 2005. His latest CD Guitars and Cars was voted in top ten CD's of 2008 by the prestigious Blues magazine "Real Blues ".
His early influences were Guitar players such as Wes Montgomery, Andre Segovia, Charlie Christian, and of course Jimi Hendrix. His vocalist influences were Joe Williams, Johnny Hartman, Nat King Cole, and Frank Sinatra.
Throughout his career he has performed with many well known artists, including The Drifters, The Shirelles, Bobby Day of Rocking' Robin fame, Otis Day and the Knights, and Jimmie Rodgers of Country and Western fame. Alvon sought out, and learned, at the feet of many icons of the blues, including: John Lee Hooker, Pee Wee Crayton, Little Joe Blue, Harmonica Fats, Sonny Green, Frankie Lee, Guitar Shorty, Lowell Folsom, and Buddy Ace.
Alvon worked with comedians such as Renaldo Rey, Robin Harris, Skillet and Leroy, and Lawanda Paige (Aunt Ester), from the Redd Foxx show. Having the opportunity to learn from these outstanding comedians helped to develop Alvon's own special sense of humor. Alvon has performed on the international level as well as nationally in such places as Malaysia, Russia, China, France, Italy, Japan, Singapore, New Zealand, Europe, Canada, The Bahamas, Australia, Las Vegas, Lake Tahoe, Atlantic City and many other cities all across the United States.
Venue Information:
Club Fox
2209 Broadway
Redwood City, CA, 94063