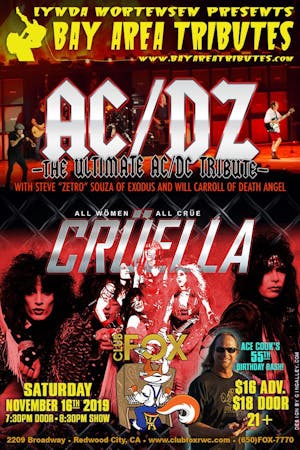 Lynda Mortensen Presents Bay Area Tributes
AC/DZ
Cruella
$16.00 - $18.00 Sales Ended

Ace Cook's 55th Birthday Bash w/Steve "Zetro" Souza of EXODUS & Will Carroll of DEATH ANGEL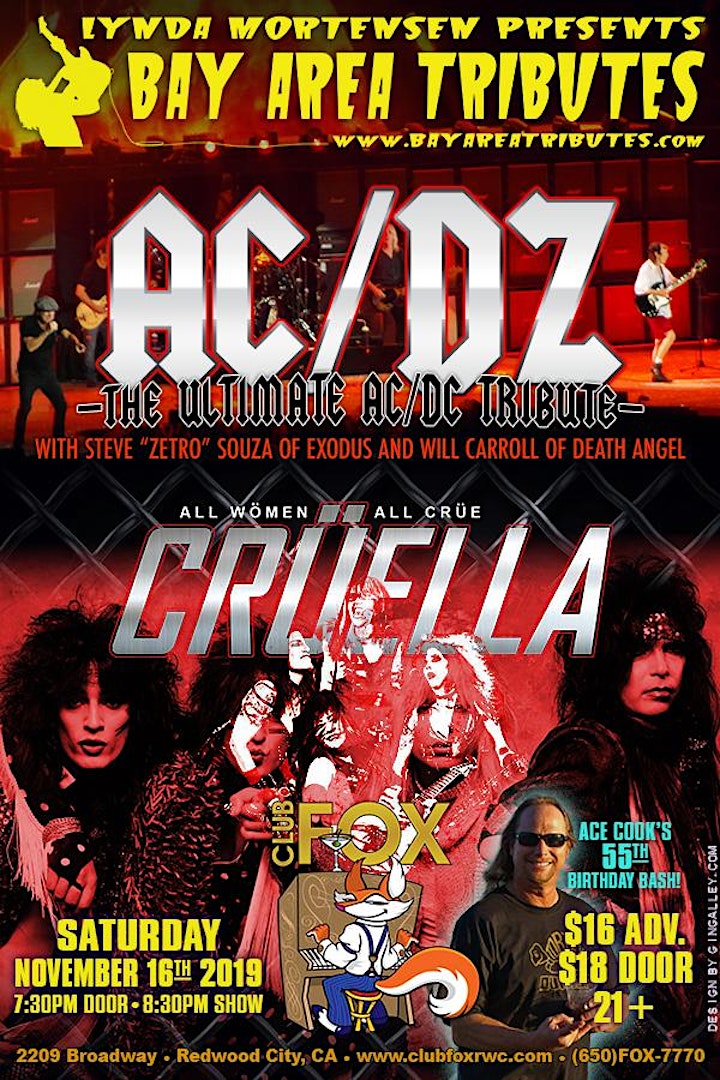 AC/DZ is the brainchild of Steve "Zetro" Souza (Exodus, Hatriot). Back in 2010, Zetro decided it was time to pay homage to his number one musical influence, Bon Scott. So Zetro contacted some of his longtime Bay Area contacts, most notably Walter Morgan, to put the word out that he was looking for players to form a Tribute band to recreate the energy, power, and force of the original AC/DC.

The original lineup for AC/DZ back in 2010 consisted of:

Zetro (Vocals - naturally)

David Chapman (Lead Guitar)

Jon Allen (Drums - Sadus)

Elena Repetto (Bass - Bomb & Scary, Skinner)

Drew Gage (Guitar - Hatriot)

Playing a handful of shows in the Bay Area, this group of Rock and Roll Mercenaries quickly garnered a reputation as a no holds barred, high energy, in your face Rock and Roll assault that embodied the true raw spirit of the Real AC/DC.

Over the years, some of the players have moved on and we've had the benefit of having a couple of special guest musicians that have joined for a short time and/or shared the stage with us for a show or two:

Dan Kopp (Guitar)/Pamela Ausejo (Guitar)/Adam Alvarez (Bass)/Tony Peterson (Bass)/Kevin Seymour (Drums)/Wade Olson (Drums) John Linn (Drums)

Will Carroll (Death Angel) took over for Jon Allen in 2013 and Troy Alexander joined in 2015. Joel Proto joined in 2018, Which leads us to AC/DZ's current lineup (2018):

Steve "Zetro" Souza (Vocals - Exodus)

Will Carroll (Drums - Death Angel)

Dave Chapman (Guitar)

Joel Proto (Guitar - Vain)

Troy Alexander (Bass)

The names may change, but the Rock and Roll Remains The Same!

AC/DZ - Let There Be Rock…Again!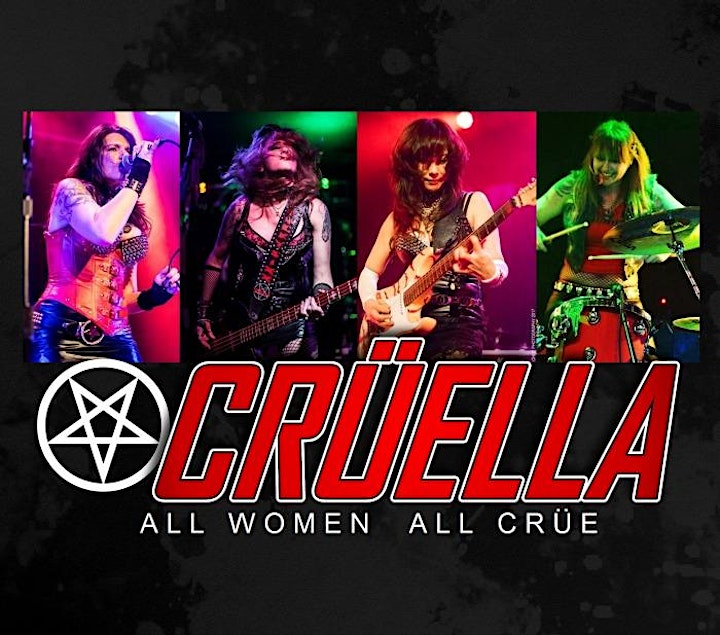 Crüella is the ultimate all-female tribute to Mötley Crüe. Formed in 2012, buzz about the band built quickly and the girls became known for their hard-hitting shows that are true to the power and performance of Motley Crüe. With thousands of fans from all over the globe, Crüella brings its dynamic shows to packed venues and is consistently met with great enthusiasm by Crüe fans - and anyone else that appreciates women who really rock and look great doing it!

Crüella pays tribute to material from all eras of Mötley Crüe's career, encompassing the band's biggest hits as well as fan favorites. Crüella's members are all seasoned and talented musicians with the chops to bring even the most die-hard Crüe fan to their knees!

Venue Information:
Club Fox
2209 Broadway
Redwood City, CA, 94063