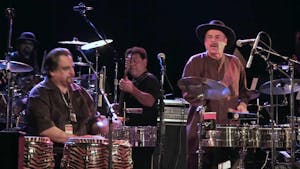 40th Anniversary of PURO BANDIDO w/special guest ROSE MARIE
Come celebrate the 40th Anniversary of PURO BANDIDO, w/special guest Rose Marie
Puro Bandido is a highly acclaimed Latin Rock Band featuring Johnny Gunn, Angel Arozco, Rafael Ramirez, Richard Segovia, and Steve Salinas.
The members of this band have written and/or performed with the likes of Carlos Santana, Stevie Wonder, Eddie Money, Randy Jackson, Tommy Castro, Kool & the Gang, Tower of Power and more.
Puro Bandido is more than a musical group - it is an attitude and an eclectic sound that mesmerizes its audiences with its incredible stage presence, driving rhythms, soaring guitars, and precise musical execution.
Puro Bandido was formed by Jose Mayorga in 1978. Jose, now deceased, was joined by Richard Segovia and Rolando Contreras, keeping Jose's dreams alive with the other members of Puro Bandido.
The music is high energy Latin Rock and was formed in the Mission District of San Francisco. Puro Bandido was instrumental in the development of Border Rock - crossing all borders; having no boundaries. Their Sound is a combination of old school and new sounds created by a combination of driving percussion, an incomparable rhythm section and vocals to match.
Venue Information:
Club Fox
2209 Broadway
Redwood City, CA, 94063